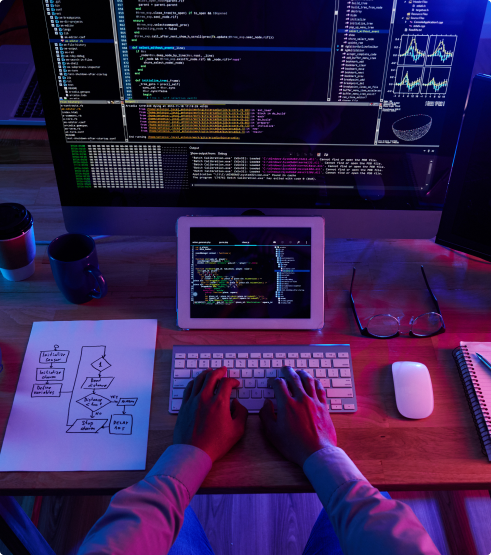 Get To Know Us
IoT Insights Unleashed: Elevate with Tower Tech
Unlock IoT Insights: Tower Tech excels in software, offering essential IoT dashboard analytics for informed decisions
Quick Support

Our company offers prompt & reliable support to clients throughout app development and beyond.

Native Features

With our expertise in Flutter app development, we seamlessly integrate nativernfeatures into your applications.
Popular Services
We turn your
ideas into digital reality
Home Security and Surveillance

Safeguard your property with advanced security. Get real-time alerts, remote monitoring, and comprehensive protection against threats.

Energy Efficiency and Climate Control:

Manage energy smartly: Our climate control system empowers you to set temps, automate blinds, and enhance eco-friendly comfort.

Lighting Control

Illuminate your home with precision and style. Our lighting control solutions enable you to set the perfect ambiance for any occasion, all at the touch of a button.

Entertainment and Media

Elevate your entertainment experience with cutting-edge audio and visual solutions. From home theaters that rival the cinema to whole-house audio, we bring the magic of the movies to your doorstep.

Home Automation Hub

Our centralized automation hub puts the power in your hands. Control all your smart devices from a single interface, whether you're at home or on the go.

Enhanced Comfort and Convenience

Elevate your lifestyle with seamless automation. Enjoy enhanced comfort, convenience, and security in every aspect of your home.
Great platform, with a diverse client base. High competition, but the good gigs always stand out. Clients satisfied with the output always come back for more.
Highly recommended Tower Technologies! Professional with a lot of patience, helped me with the most difficult issues. Great job!
Learning management system (LMS) used by students may gather feedback from them on the usability, effectiveness.
It can be a powerful marketing tool for software development companies as they provide social proof.
Outstanding communication, exceptional professionalism and final product is just "WOW!"...it was simply awesome to work with Mudasser Farooq Mian...
Evaluate the effectiveness of the software in meeting the needs of its users, identify areas for improvement, and make decisions about future development and updates.
Requirement Gathering

We follow the first and foremost priority of gathering requirements, resources, and information to begin our project.

UI/UX Design

We create catchy and charming designs with the latest tools of designing to make it a best user-friendly experience.

Prototype

After designing, you will get your prototype, which will be sent ahead for the development process for the product.

Development

Development of mobile application/web/blockchain started using latest tools and technologies with transparency.

Quality Assurance

Tower Tech values quality and provides 100% bug free application with no compromisation in it.

Deployment

After trial and following all processes, your app is ready to launch on the App store or Play Store.

Support & Maintenance

Our company offers you all support and the team is always ready to answer every query after deployment.
Working Process
Our Internet of Things
Are Providing
Innovative Solutions

Tailored smart home solutions for modern living.

Personalized Experience

Personalized smart home solutions for all lifestyles.

Seamless Integration

Easy integration, hassle-free transition to smart living.

Effortless Transition

Seamlessly embrace smart living.
Android

iOS

Flutter

Kotlin

Swift

iPad

Virtual Reality

Augmented Reality
Angular

Java Script

Type Script

React Native
Python

Laravel

Java

.Net Core

Django

PHP

CodeIgnitor

Symfony

Zend

Cake PHP

Yii
Wordpress

Magento

Prestashop

Joomla

Drupal

Shopify

WooCommerce

Wix
Docker

Kubernetes

Jenkins

Ansible
Company
Our Completed Projects